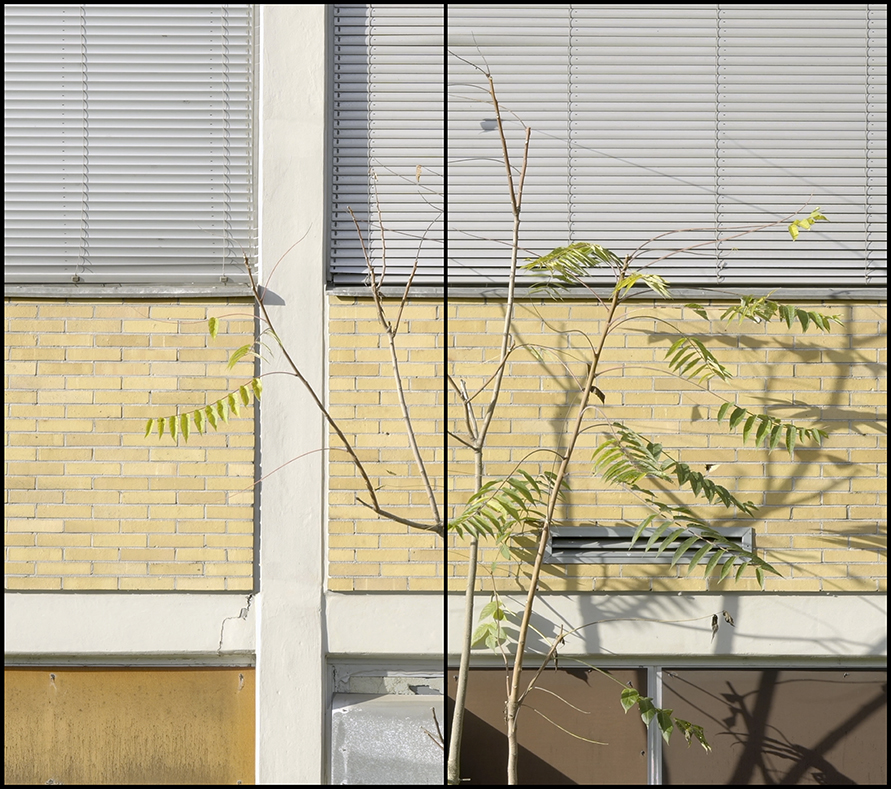 VIDEOSQUENCE and PHOTOGRAPHS: AT THE HOUSE / IN THE GARDEN
The work shows a section of the architecture of the former Botanical Institute adjacent to the Botanical Garden in Frankfurt am Main. The tree of the gods (Ailanthus altissima), which is part of the picture, invasively colonises the vacant spaces of large cities as a neophyte, including Frankfurt. In this place, the tree close to the house becomes a sign of vacancy and wasted potential uses.
The motif shows a small yet characteristic part of the building façade of the Kramer Building: the reinforced concrete structure clad in yellow clinker bricks, ventilation openings and windows closed with screens and wooden panels. The architectural elements photographed from the front create an abstract (pastel/grey) surface grid. Only the moving branches of the tree and the changing incidence of light and shadows make the image recognisable as a moving image.
In its naturalistic colourfulness and size, the video relates directly to the current presentation space. The movement of the light and the tree creates the duration. By mirroring the image and rewinding the time, the second part of the video simulates the course of light in the evening.
Two photographs taken during the video production process were edited for large-format prints. The first photograph shows the motif before the sunlight hits the façade. The second photograph shows the façade in sunlight. In the photographs, the abstraction in the greyscale draws attention to the differentiated formal structure of the motif, to the surfaces and lines that are shaped differently in the two states. The simultaneous visibility of the two image states, which are half an hour behind each other at the time of the photograph, provokes comparison and opens up a visible space of possibility.
---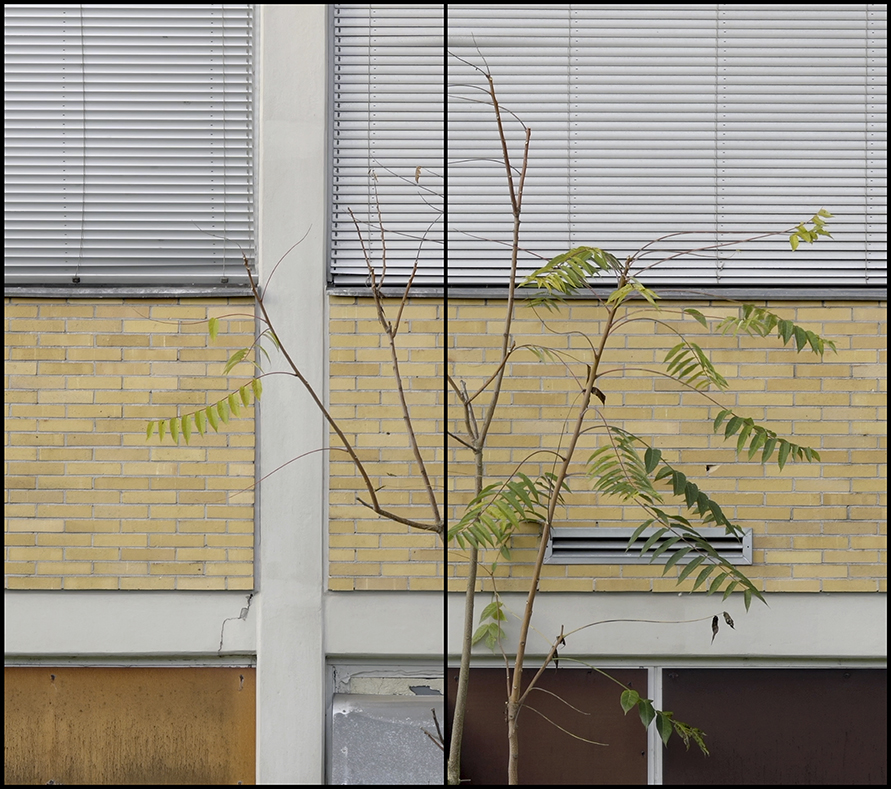 AM HAUS / IM GARTEN
AT THE HOUSE / IN THE GARDEN
Frankfurt am Main. 2022
Recording: 4K video
Presentation: 2-channel video,
1080x1920 px each, 25fps
Editing for 46 / 55 inch monitors
30min. Without sound. Loop
Video Stills. State 2 + 1