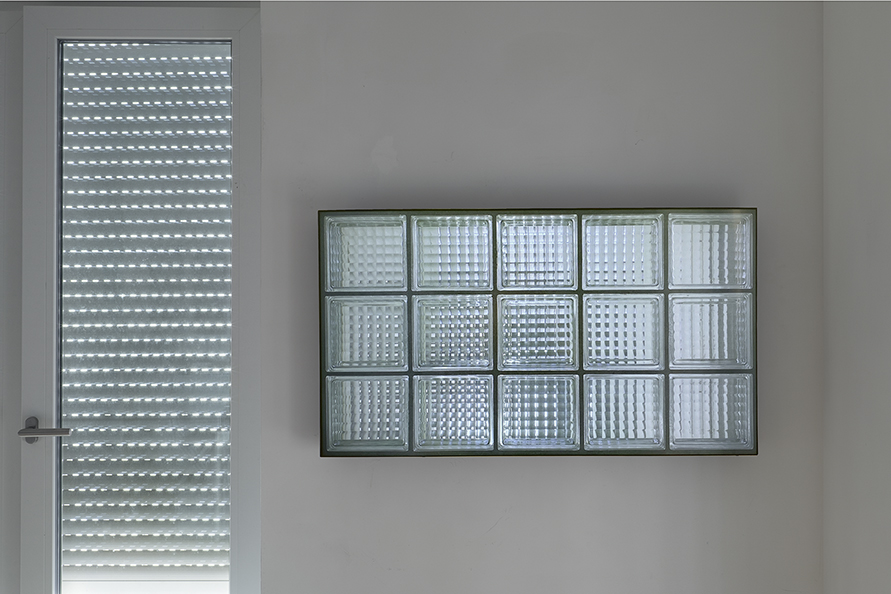 Glas-Steine / Gang, Treppenhaus
Glass Blocks / Corridor, Staircase
Frankfurt am Main. 2020/2021
4K Videos / Mounting / Clipping
Adjustments for 46-inches monitor
H264. 1920 × 1080px, 50p
Silent. 3 h 6 min. Loop
Installation View. Studio
---
Glass block walls in a building in Frankfurt am Main: The video from the interior of the building shows in sections a gradual progression of forms, visible in the recorded glass blocks, produced by the change in the visual axis to the staircase located behind the glass. This change in the visual axis is created by gradually moving the camera across the width of the entire glass block wall.
A total of 16 sequences are recorded, each with 3 x 5 glass blocks. The camera is always moved along a horizontal axis by the width of a glass block, eight times to the left and then back to the right.
The image of the staircase appears slightly offset in each shot as a new shape in the glass.
In the individual views, the light changes and/or movement takes place.
The 16 sequences are shown in the whole video in four sequences, as a way there and back, in a systematic order.
This work is conceived as a video-image. The still shots of the glass structure are shown over a longer period of time, equal to the light changes and the sequences with movements.
The image size corresponds to the size of the glass blocks, adapted for display on a 46-inch monitor. The mounting rails of the monitor can refer with their length to the dimension of the recorded wall.
---