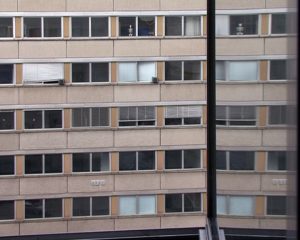 This series of nine video works has been created in 2008 in Dresden at the former Eastern German state enterprise ROBOTRON, an industrial prefabricated construction of office buildings. The air circulation and the easy manoeuvrability of the window wings set the mirror images of the window panes into a permanent swaying motion.
The nine video sequences feature a similar image build-up: The window frame runs vertically through the image. The window frame separates the direct view towards the opposite building façade from the reflection.
The views are rigidly structured by the windows' raster of the building. The focal lengths vary. Besides the aspect of moving reflections, the whole video series documents the renovation works on the building: the aged condition of the concrete façade, the scaffolding in front, the covering of the windows, the works on the house and the freshly painted appearance. In one of the windows a skeleton dummy has been placed next to other objects, which are visible in addition to the movement.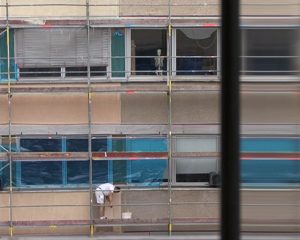 JA/NEIN. Ansichten 1, 4
YES/NO. Views 1, 4
Dresden 2008
Digital Video (DV-Cam) / DVD PAL
Mute. Each 7 min. Loop