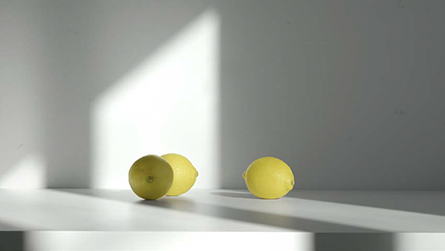 Drei Zitronen
Three Lemons
Frankfurt am Main. 2019
4K Video
Quicktime Movie H264
1920x1080px / 25p or
1600x1200px / 25p
60 min
Mute. Loop
---
Three lemons lie on a table: a still-life motif.
The shadow lines of a window in the sunlight move across this table.
Recording this process, for one hour, creates a video image.
The movement of the shadows is clearly visible in the frame.
From time to time the wind moves the windows.
As the light passes and the shadows increase, the yellow of the lemons changes.