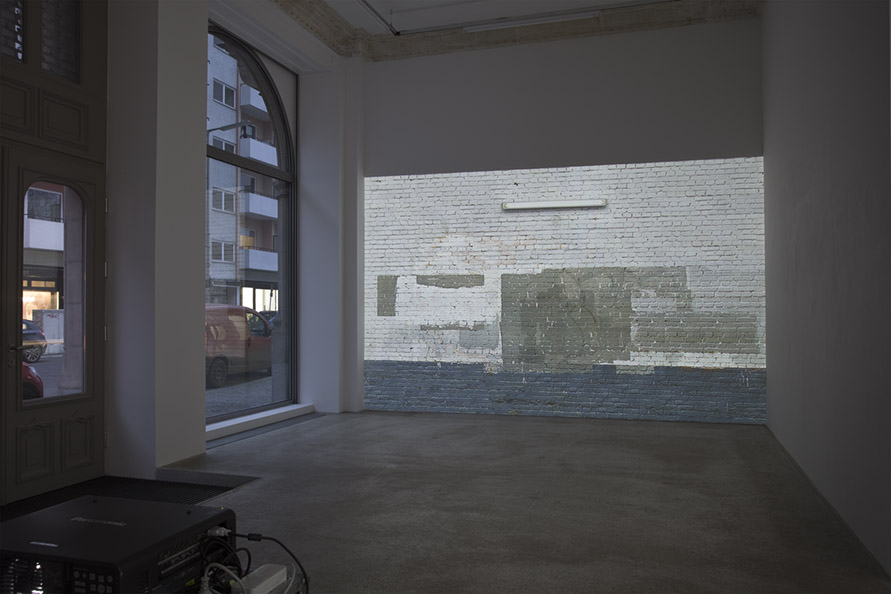 Transformer House Wall. Wall / Neon Light
Transformatoren-Haus-Wand. Wand / Neonlicht
Daniel Marzona. Berlin. 2017
Video Projection / Exhibition View
The video work Transformatoren-Haus-Wand / Neonlicht (transformer-house-wall / neon light) shows the wall of a house with large surfaces painted in different colors, photographed in downtown Moscow. There are traces of graffiti, which the authorities do not tolerate and have tried to expunge by painting them over with oil and emulsion paints in various tones. Wolf's media artworks are created successively. First, she photographed some of the overpainted house walls in Moscow, part for part, and put them back together as large pictures on a computer. As a video level, the photo of a neon light going on and off is laid over the wall photograph with its various degrees of brightness. The changes produce the actual video image: the colors of the wall flicker rhythmically in the light of the malfunctioning lamp. This simple combination of the static and the dynamic is characteristic of Wolf's works.